Article
5 Expenses to Consider Before Getting a New Pet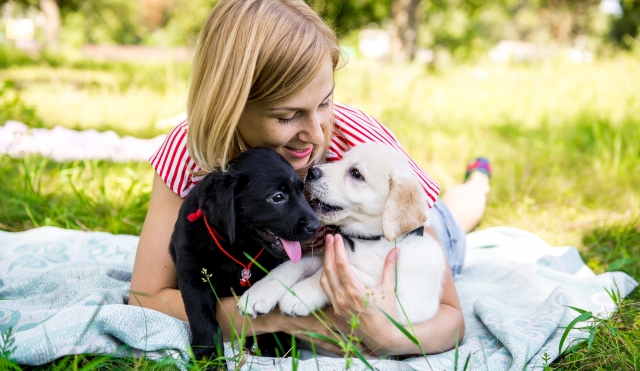 Earlier this year, pet adoption and fostering surged during stay-at-home orders limiting social contact. Shelters in Colorado happily announced they had no animals available for adoption. The American Society for the Prevention of Cruelty to Animals (ASPCA) reported that several states experienced a near 70% increase in pet fosters when compared to the same time last year.
It's a win-win for both animals and people. Pets provide emotional comfort during times of physical isolation. Since new pet parents are spending more time at home, the anxiety many animals have when entering a new environment is lessened.
But pet ownership costs can put further strain on a budget already feeling the financial impact of COVID-19. If you're interested in providing a forever home to a pet in need, remember that expenses extend beyond the reduced or waived adoption fee and pet food.
Below are five pet care costs to consider before you add a furry friend to the family.
1. Non-refundable Pet Deposit
If you rent a house, apartment, or condominium, then you might be required to pay a non-refundable fee before bringing your new pet home. The amount charged will vary, but expect to pay a one-time fee of at least $200 to cover pet damages and cleaning fees. Speak with your landlord and review your lease agreement for details.
2. Pet Rental Fee 
Some rental properties also charge a monthly pet rental fee if you add a pet to your household. This fee, usually less than $100, may be in addition to the pet deposit. It's designed to help the landlord offset damages to other parts of the property, such as landscaping, lobby carpets, and on-site dog parks. Unlike the one-time pet deposit, landlords who require a pet rental fee collect it each month in addition to the regular rental payment. Avoiding telling your landlord about your new pet can cost you even more or may result in an eviction.
3. Unexpected Vet Bills
Routine veterinary care can help catch health problems before they become serious for your pet and your wallet. Setting money aside in advance to cover office visits and vaccines can help reduce the need to go into credit card debt to cover these expenses. But just like other family members, your pet might occasionally require an emergency visit to the hospital. The average cost of an emergency vet visit is $800 - $1,500, not including surgery or aftercare treatment.
4. Geriatric Care 
Similar to humans, pets often need specialized care as they age. For example, some of the most common health problems of senior dogs include joint problems, hearing and vision loss, cancer, and dementia. These health conditions can decrease your pet's quality of life without proper veterinary intervention. Medical costs will probably increase as your pet ages. Securing pet health insurance could help reduce these costs, but there's still an expense for the insurance premiums.
5. Replacement Costs
Whether you bring home a new puppy or an adult cat, your new family member can damage your personal property. Stained carpets, scratched floors, or destructive chewing behavior might require replacement of rugs, furniture, or other possessions. Adequate pet training can help eliminate these unwanted behaviors, but proper training can often take months.
Are there other expenses I should consider before adopting a new pet?
Yes. Various factors influence the annual cost of pet ownership. For example, it's often cheaper to own a guinea pig than a small dog. Review your current expenses to ensure your budget can support the additional costs of adding a pet to the family. Despite the increased costs, a new furry friend might still be worth it!