Article
5 Financial Tips Recent College Graduates Must Master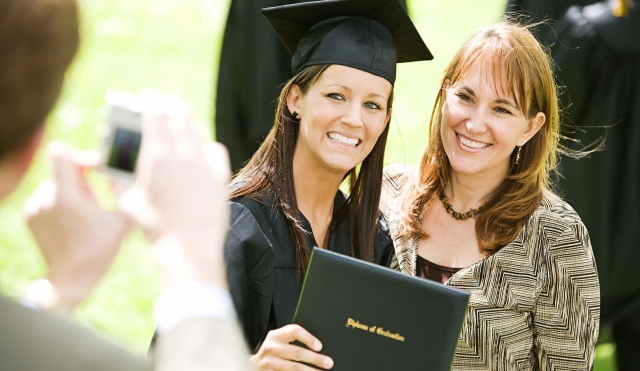 Congratulations on receiving your college degree! 
Before you enter the workforce or enroll in an advanced degree program, there's one more subject you still need to master – personal finance. 
By establishing smart money habits early in life, you might be able to avoid financial heartache down the road. Thankfully, you won't need to sit through another lecture to gain the knowledge necessary to ace this subject. Simply follow these actionable financial tips designed specifically for recent college graduates.
1. Set SMART Financial Goals
Roughly 40% of first-time undergraduates students seeking a four-year degree don't complete it within six years. Some never do. But, you've proven you can set goals and achieve them. Borrow some of the same skills you used to achieve your educational goals and apply them to your finances. In addition, learn how to set SMART financial goals.  
Specific – Clarify your financial goal by including a specific dollar amount
Measurable – Identify how you'll measure your progress toward achieving the goal
Attainable – Ensure the goal is realistic
Relevant – State how the goal will improve a particular aspect of your financial life 
Time-based – Decide on a start and end date
When your goals are SMART, you'll be more likely to stick to them. 
2. Create a Realistic Budget
Before you can create a realistic budget, you have to know where you stand financially. That includes knowing exactly how much you owe in student loans. Speak with your loan servicer to ensure you understand your repayment options. The sooner you repay your student loan debt, the more money you'll have available to meet your other goals. 
Prior to committing to an aggressive student loan repayment plan, compare your total take-home pay to your living expenses. If you spend more money than you bring home, cut costs. If your income exceeds expenses, set aside a portion toward your SMART goal, and have fun with the rest.
Living within your means is hard to do without sticking to a budget.  Avoid the temptation to live a lifestyle you can't afford. The way you spend your money now can bring you closer to living the future financial life of your dreams.
3. Anticipate Emergencies
Stuff happens when we least expect it. A chipped tooth, busted water pipe, or transmission trouble can wreck your budget. But, if you have an emergency fund in place, you can rest easy. Experts recommend placing three to six months' worth of living expenses in a savings account. Don't let that amount scare you. Start with a smaller goal of $500. Continue growing the fund by adding extra money to the account at every opportunity. Only access account funds for true emergencies.
4. Take Care of Your Credit 
Good credit is essential. It helps you secure a low-interest rate auto or home loan, avoid unnecessary security deposits, and stay in the running for certain employment positions. Fortunately, you don't need a credit card to build a good credit history. Experian Boost, which is free and offered by one of the three major credit reporting bureaus, can help you establish a good credit history by tracking your phone and utility bill payments. 
Whether you own a credit card or not, always pay bills on time. This can help you avoid collection activity, which can damage your credit rating.  
5. Keep Learning
Get to know your financial institution's Resources page. Most include financial calculators to help you manage your money, provide links to money-saving websites, and offer detailed explanations of member perks you might have overlooked. If available, take advantage of free one-on-one financial counseling and financial education tools, like the ones provided by GreenPath Financial Wellness. 
Credit Union of Colorado has partnered with this national nonprofit to ensure members are empowered to live financially healthy lives. For example, if you're unsure how to tackle student loan debt, a GreenPath certified student loan expert is available to help you select a repayment plan that works for your finances. 
Make wise money decisions starting today. Your financial future depends on it.
Article by: Tracy Scott