Article
5 Money Tips for Couples
Helpful hints for any two people considering combining their financial accounts.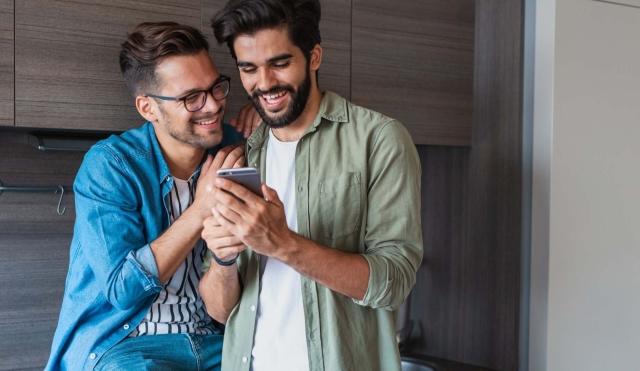 If you and your special someone are getting serious, you might be discussing the next steps of your relationship. For some, this means exchanging vows. For others, it means a wedding of finances. Either way, merging money can be a delicate topic that one or both partners hope to avoid. But having a heart-to-heart about finances is necessary for the long-term happiness of the relationship.
Here are five tips for couples who intend to marry their bank accounts.
1. Share your scores.
Credit scores reveal a lot about a person's financial responsibility. It's why lenders and some service providers consider them when deciding whether to do business with new customers. Those three digits also tell you how difficult it might be to share credit accounts with your partner. Request copies of your reports at AnnualCreditReport.com and review them together. Sharing this information could reveal money issues that need to be addressed before you merge your finances.
2. Set a monthly date with your finances.
Mark your calendars for a monthly date night to review your finances. Dedicating the time to regularly discuss money can help ensure you're on the same page with large purchases, everyday spending, and retirement plans. You can also use this time to dream big! Do you want to visit New Zealand? Does your partner want to purchase an RV? Discussing your desired lifestyles, while keeping costs in mind, increases the likelihood that you'll make them a reality without going into unnecessary debt.
3. Go to financial counseling.
You don't have to wait to seek professional counseling until your relationship is in financial trouble. GreenPath Financial Services, a Credit Union of Colorado partner, provides free one-on-one financial counseling and assistance with household budgeting. They also offer no-cost webinars to help you understand your money personality — and that of your partner.
4. Discuss the D-word sooner rather than later.
Most marriages begin with at least one partner in debt. While you don't both need to be debt-free to continue your relationship or take it to the next level, discussing how much debt you have is critical if you expect to have a low-stress financial life together. Some questions to kick-start the conversation include:
Is debt just a part of life?

How many credit cards do you have?

Do you have student loan debt?

Do you owe money to friends or family members?

Are you receiving collection calls from anyone?
While the topic of debt can be awkward, avoiding it could cost more than momentary discomfort. Commit to helping each other develop a plan to tackle debt. Whose funds will be used to get rid of the debt is up to the two of you.
5. Gauge each other's willingness to follow a budget.
Sharing financial responsibility for expenses is less of a struggle if you're both willing to stick to a budget. Overspending could cause your accounts to go into the negative and result in hefty overdraft fees. It's OK if one person oversees bill payment as long
Financial disputes can end a relationship. But a willingness to listen well and make smart financial compromises could help you both achieve your money goals. If you're ready to take the next step in your financial relationship, consider opening a joint Everyday Checking Account at Credit Union of Colorado. Members earn interest on deposits and have access to no-fee ATM withdrawals.