Article
Credit vs. Debit Cards: How They Differ and Why It Matters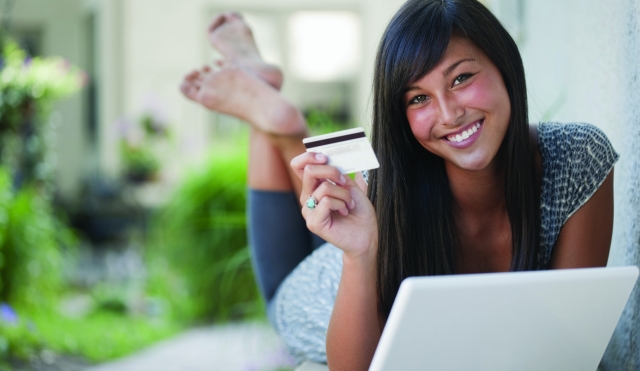 Contactless payment systems, digital wallets, and peer-to-peer (P2P) payment apps reduce the need to carry cash. Shoppers only need to preload credit or debit card information into their mobile device to experience incredible convenience. Saying "Yes" to virtual plastic and "No" to physical cash also provides fraud protection and simplified recordkeeping. 
Credit and debit cards often possess similar features since they are typically issued by major payment processors, e.g., Visa® and MasterCard®.
While credit and debit cards allow users to complete online and in-person transactions with a few swipes of their mobile device, their differences can cost you if you're not careful. Knowing which card is best for your finances starts by understanding the differences between credit cards and debit cards. 
Credit Card Basics
Credit cards may either be secured or unsecured. 
Some secured credit cards do not require a credit check.* Instead, users must place a refundable security deposit into an account for the amount equal to the credit card limit. 
*Check with your lender to see if credit will be pulled before you apply for any credit.
Some unsecured credit cards require a credit check.*
*Check with your lender to see if credit will be pulled before you apply for any credit.
Both types of credit cards can help build or re-establish credit. Your payment history is usually reported to at least one of the major credit reporting bureaus.
Each time you use a credit card, you are taking out a short-term loan that requires repayment. Failure to make payments as agreed can harm your credit health.
Unless you pay your balance in full by the date specified on your account statement, you will need to pay interest on the balance. Interest rates are set at the time of credit card issuance but may change based on the card you receive and how well you manage payments. Some credit cards may also charge annual fees.
Charges made on a credit card are limited by the approved credit limit assigned to the card.
If your credit card is lost or stolen, you may only be liable for up to $50 of the unauthorized charges.
Debit Card Basics
Debit cards are linked to a specific checking account. A credit check isn't required.
While there are no purchasing limits on the account, you must have enough funds in your checking account to cover the transactions. Each time you use a debit card, you are accessing funds in your checking account. Your transaction will be declined if you do not have enough money in your account to cover the purchase.
Since the money you are using for purchases is your own and not borrowed funds, there are no interest charges. This also means you are not repaying a credit card issuer, and payment activity is not reported to a major credit reporting bureau.
Debit cards do not have annual fees, but penalty fees may apply if you attempt to purchase without enough money in your account.
If you notice questionable activity on your debit card, you'll need to act fast. While debit cards offer fraud protection, it isn't the same as a credit card. You might be liable for up to $500 if you don't report suspicious activity within 60 days of the account's statement date.
How do I choose?
Both credit and debit cards are more convenient than carrying cash. But, choosing the card that makes sense for your situation requires identifying which card better matches your spending habits and financial goals. When used wisely, these powerful personal finance tools can be used together to help build your credit and successfully manage your finances. 
*TIPS*
Use credit cards to build a strong credit profile by making on-time payments and keeping account balances low. 
Use a debit card to help stick to your monthly budget and keep track of everyday purchases.
Since credit and debit cards can differ by the issuer, review the Credit Card Agreement and Disclosure Statement for complete details on each card.
Apply for a Credit Union of Colorado Platinum Preferred Rewards Visa® or Platinum Preferred Visa® and get rewarded for spending. Visit our Credit Card page to learn more about how our low-interest rate, no annual fee cards can help you realize your financial dreams.