Article
Low-Cost Summer Fun for Large Families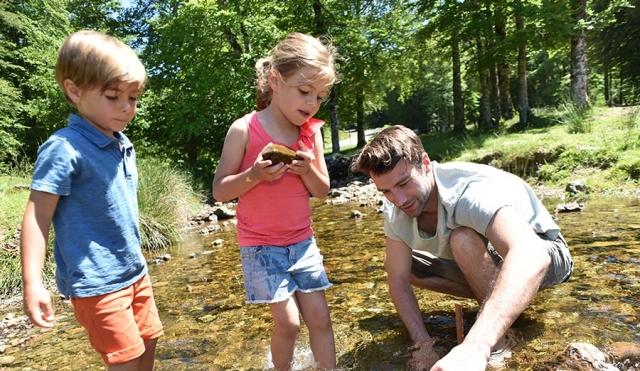 After a challenging year, kids of all ages are ready to dive into a summer filled with concerts, baseball games, and trips to the amusement park. But the cost of admission tickets can feel like you've been thrown into the deep end, especially if you have a large family. So when your tribe is ready to make a splash while keeping costs down, review this list of low-cost warm weather activities the entire family can experience together.
State and National Parks
Depending on where you live, loading everyone in the car and heading to the nearest state or national park could offer the most fun for the least amount of money. Many parks offer daily and annual vehicle passes. Instead of a per-person charge, paying a vehicle fee could save you hundreds of dollars if you have a large family. Park your car and explore the nature trails for no additional cost. 
Check online before you leave to determine if reservations are required or if the family pet can join in on the fun.
Local Fishing Holes and Lakes
Catch-and-release fishing, walking the trails, or simply hanging your legs over a floating boat dock could be a relaxing, low-cost way to have fun with your family this summer. If you have an active bunch, bring a frisbee or other outdoor game others can play while you sit in the shade under a tree. Don't forget to pack a picnic lunch and plenty of beverages to avoid unnecessary spending at the drive-thru or convenience store.
Always confirm whether you need to pay for a fishing license, as fines could eat up your savings.
Community Concerts
Libraries, homeowners associations, and local municipalities around the country offer a variety of free outdoor concerts. Gather several blankets, camping chairs, and bug spray since performances typically begin just as the sun goes down. Check your local library or city website for upcoming events, dates, and times.
Family Projects
Grow or build something together. Call a family meeting to discuss ideas and give everyone a chance to vote on a summer project. Projects can take a few days or up to several months to complete. 
Those that take longer to complete are likely to be more complex and have higher up-front costs. Shorter, simple projects may cost less, but you may need to do more of them to ensure everyone participates before they're finished. Consider growing a family garden, building a treehouse, or start a lemonade stand. 
Pick one or more projects, set a budget, and stick to it. 
Charitable Organizations
Local animal shelters and food banks can always use a helping hand. Many nonprofit organizations acknowledge that giving your time is just as valuable as donating money. Contact your local chamber of commerce or county website to learn about volunteer needs in your area. Then select an organization nearest you to sign up to volunteer as a group. The few hours spent together over the summer can help strengthen family bonds while making a difference in your community.
Neighborhood Fun
Keep a lid on summer expenses by tapping into free family activities in your neighborhood. Backyards, front yards, and neighborhood swimming pools might set the stage for scavenger hunts, jumbo board games, and water balloon fights. These low-cost games and activities can keep large families smiling all summer.

Don't let this summer turn into a financial scorcher. Enjoy free and low-cost activities now while setting money aside for an unforgettable end-of-summer family adventure. Open a no monthly fee Primary Savings account today and earn quarterly dividends on deposits.