Article
Meet Quinn. A CUofCO Visa Signature cardholder.
Your neighbor and a Credit Union of Colorado Visa Signature cardholder who's mastered the perks and benefits that come with it.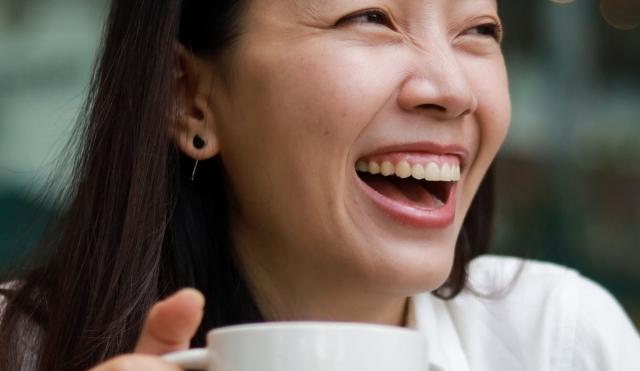 Meet Quinn. She's 34, and a Director of Communications for a medium-sized accounting firm in Denver.

Quinn lives in RINO, has two Labradors (Sadie and Harper) and she loves her Visa Signature® card from Credit Union of Colorado. Quinn is savvy when it comes to card shopping. She knows she could find comparable cards at bigger banks, but she appreciates the commitment CUofCO makes to her community. She sees their work with local food banks, schools, and environmental causes, and she feels that their values align with hers.
Quinn pays off her card balance regularly and spends about $1,600 on monthly expenses. She puts all her purchases and payments on her Signature card to get 2x PeakPoints Rewards back on groceries, dog toys, even her weekly dinner at her favorite vegan spot. This loyalty results in earning enough PeakPoints in three months to recoup her $95 annual fee through the cashback option.  That leaves nine more months to earn almost $300 additional dollars by the end of the year! Enough to spend New Year's Day snowboarding at Breck!
Quinn loves the Denver art scene, especially live music. She uses her Sofar Sounds® benefit from Visa Signature to purchase two-for-one $46 tickets to secret performances all over the city. She's even taking some online illustration courses on Skillshare® for free during the next 3 months so she can take part in next month's Art Walk.

Last weekend, she and her friends headed to Sonoma Wine Country for the weekend. They only had 48 hours, so a complimentary upgrade to an SUV and express check-in at the airport's Avis® counter made getting their rental car easy-breezy. Thanks, Signature! They also booked their hotel through the Visa Signature Luxury Hotel Collection® and got a free room upgrade and a $25 meal/drink credit for happy hour at the lobby bar. They even used her Signature card to get two for one $40 wine-tasting flights at three of their favorite wineries through the Sonoma Wineries Program®.  
After a complimentary late checkout, Quinn left for the airport. On the way, she called her Shipt® Delivery team back home to schedule some groceries to be delivered to her place upon her return. She's been using grocery delivery services since the pandemic, but her three-month subscription to Shipt®,  complimentary for all Signature cardholders, showed her how personalized a delivery service can be. She can text her shopper anytime and avoid large delivery windows and random substitutions. And any order over $35 is free! 
Upon her arrival at DIA, Quinn noticed a new crack in her designer suitcase. Her 6-month warranty ended 4 months ago, but she bought it with her Signature card, so she's covered.
Quinn would love to tell you all about how much she saves and uses her Signature card; unfortunately, she dropped and cracked her phone running for the train at Union Station. She's not letting it ruin her Sonoma memories though. Quinn pays for her cell coverage with her Signature card, so her phone is insured for the repair. Life is a little easier with Visa Signature by your side.
To apply for your own CUofCO Visa Signature Card: Apply here.