Article
A Primer On Buying Your First (Or Fourth) Car
Ready for sticker shock? The average price of a new vehicle in the U.S. was $48,763 in April 2023, according to Kelley Blue Book — this marks nearly a 30% increase over 2020 prices, which averaged $37,851. And even if buying used is on your agenda, the average price of a used car is now hovering at $28,000, so still not a steal.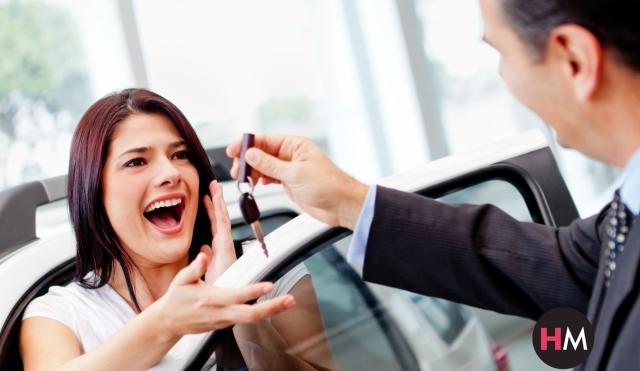 Despite the high prices, there are always some deals that are better than others. That's why shopping around is a smart way to ensure you get the most out of every dollar you spend. Here's what to focus on when you're buying a car, according to auto experts.
Start On The Internet
Yes, we know. You want to take a test drive. That'll come. For now, head to a couple of the big car sites and start clicking. You should have a budget in mind and an idea of the general type of car you want (being agnostic about brands allows you to get a better deal). Check out the safety ratings and the reviews. Then look at prices. You'll see the MSRP (the manufacturer's suggested retail price) on new cars, and estimated values from sites like KBB.com and Edmunds.com for used ones. And understand that cars can be discounted just like other merchandise — a rebate (money back for buying a particular car) is one form of discount, an incentive (like a low-interest rate loan) is another. 
Shop For The Financing In Advance
Few people can pay for a car in cash. Even fewer understand that you should shop for financing as hard (if not harder) than you shop for the car itself.  Unless you know that the car you want has an active financing offer, you're going to want to line up independent financing based on your credit score.  
Go online and search comparison sites, such as bankrate.com or nerdwallet, which often include the credit score minimum available for each offer. This is where credit unions come in. Traditionally, credit unions are known for offering better financing rates on new and used vehicles than other lenders because they are not-for-profit (and also because they've decided that this is a marketplace where they want to be especially competitive.) This is true not just for used car financing, but also for new car financing as well. 
Now Hit The Dealership
Now that you've done some homework on both cars and financing, it's time to hit the dealership.  Pulling up to a car dealership without any inclination of what you want is a recipe for getting ripped off. Todd Deeken, co-host of the Everyday Driver podcast, says car salespeople are there to direct your purchases, but they also are motivated by commission, since it directly impacts their bottom line.
Importantly, even though the supply of cars has been tight in recent years, do not let yourself be rushed into signing on the dotted line. "If you're serious about a certain car, ask for a longer test drive, since some dealerships will allow you to take the car without them, or even overnight," he says. "Cars are expensive, so getting a lot of time with it in situations you know will really tell you if it is right for you."
Time To Negotiate
Let's be honest. With cars in short supply, there hasn't been as much room to negotiate in recent years as there has been historically. But that doesn't mean you shouldn't try.
The place to begin is with the "dealer invoice" or "dealer price." This figure is one of the secrets that should majorly inform your buying decision, Deeken says. The dealer price is, just like it sounds, the amount the car costs the dealer. Your aim is to negotiate toward that number. "There will be taxes, title, and license fees on top of that number," Deeken says. "But if you get close to that number, you can feel confident that you got a decent deal.
And, knowing the dealer invoice comes in handy if there are multiple dealers in the vicinity with the car you want. While it may require a little bartering, being willing to travel for a better rate is a fast way to convince a salesperson to give a little on the price.  "If one dealership is conveniently located for you, let them know that you want to give them your business, but also that you're not afraid to take your money to their competitor the next town over to get a better deal," he says.
Keep The Next Buyer In Mind
Today, the average car can generally last for about 200,000 miles. For a well-maintained car, you're looking at 300,000 miles. What that means is that it's smart to shop not just for your dream car, but one that might suit others in the future. A lime green Jeep with customized rims may be ideal for your Instagram account — but what's the likelihood you'll find another person who wants the exact same color and style? Probably pretty low.
Unless you're planning to keep your car forever, you want to ensure there is a market to sell it in a few years. In other words, think practical and re-sellable. The best colors for reselling include black, white and gray, experts say. Blue or red are also fairly desirable, but a green or an orange hue is a tougher sell. And don't go spending thousands of dollars to revamp a vehicle with a custom sound system or tinted windows, because just because you like it doesn't mean someone else will.
Buying Used? Get A Background Check
Some people are Team New Car, while others say you should stick with used vehicles to save cash. If you subscribe to the second school of thought, CarFax.com is a good first stop before buying a previously-owned vehicle.
Just type in the VIN or the license plate of the car in question and you'll receive information about the car's service history and inspections. If anything feels off, don't be afraid to ask the dealer for an explanation. If purchasing from a private seller, ask them why they're selling their car. "Good record keeping by the previous owner is an indication that the car was treated and maintained well, and therefore a good purchase," Deeken says.
For added peace-of-mind when buying a used car, get a pre-purchase inspection (PPI), which usually costs less than $100 at a mechanic shop."No matter how nice the car might look, a PPI will tell you the condition of tires, brakes, oil, and most other regular wear or maintenance items. The car you are looking at may have a problem you can't see, but a mechanic will," Deeken says. "This isn't a guarantee, but it can alert you to many hidden problems."