Article
6 Home Improvement Projects With High Returns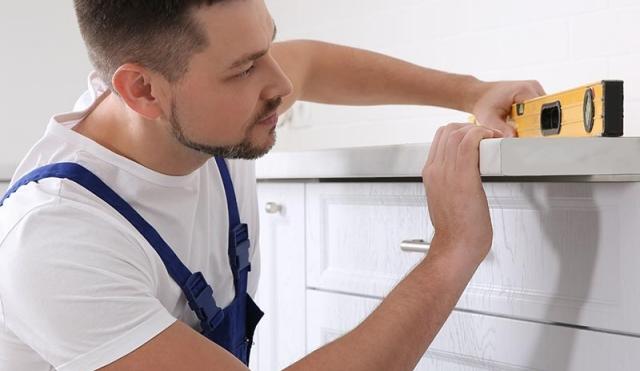 When you have a long list of home improvements you'd like to make, prioritizing projects in order of highest return is a smart financial move. Completing projects with the highest return will allow you to recoup more of your money when you sell your home. But figuring out whether a full remodel, partial upgrade or simple paint job should top your list isn't as easy as it seems on your favorite home improvement show.
Whether you expect to focus on your home's interior or exterior, review these home improvement ideas to help determine which ones will give you the most bang for your buck.
Enhance curb appeal.
While landscaping projects can contribute up to 28% of your home's overall value, consider other projects that enhance curb appeal and could provide a much higher return on investment. According to the 2020 Cost vs. Value Report, stone veneer and garage door replacements offer a greater opportunity for homeowners to recoup most of their remodeling dollars.
Give your home a natural stone makeover by replacing existing vinyl siding with manufactured stone veneer. 
Job Cost: $9,357
Resale Value: $8,943
Cost Recouped: 95.6%
Replace your traditional two-car garage door with a new four-section steel version with windows.
Job Cost: $3,695
Resale Value: $3,491
Cost Recouped: 94.5%
Actual costs will vary based on your home size and cost of materials.
Add more space.
The more livable space your home has, the more valuable it will be when it comes time to sell. Consider adding living space with one of these projects.
A room addition is a popular home improvement project for a multitude of reasons. Besides adding square footage, finishing a basement could bring a 70% return depending on the project details and your geographic location. Prices vary, but a DIY renovation could keep your costs closer to $18,000 instead of the high end of $34,000.
Enhance your backyard with a 16' x 20' wood deck. The additional outdoor living area will allow you to enjoy a more relaxing lifestyle now and provide an excellent return when you sell your home.
Job Cost: $14,360
Resale Value: $10,355
Cost Recouped: 72.1%
A built-in bench and planter are also included in this estimated project cost.
Modernize or upgrade your indoor space.
While everyone has their own decorating style, updating the bones of your indoor living areas can provide a space that feels brand new for your family. And when it comes time to sell, buyers will be willing to make your investment pay off.
There's no need to demo your entire kitchen to create a new look. Update a functional 200 sq. ft. kitchen with new energy-efficient appliances, shaker-style wood panels, and new hardware. Then, finish the walls and trim with a fresh coat of paint.
Job Cost: $23,452
Resale Value: $18,206
Cost Recouped: 77.6%
This project assumes you have 30 linear feet of cabinetry and countertops.
If you're thinking about replacing your worn carpet with more carpet, think again. While hardwood floors have higher upfront costs, they don't need to be replaced every few years. Sanding and refinishing hardwood can repair floor damage as well as give rooms an entirely new look. And you can't beat the return on investment; you can expect to recover 106% of the cost of new hardwood floors and 100% on refinished hardwood floors.
 
A well-chosen home improvement project can help increase the value of your largest asset. Credit Union of Colorado's Home Equity Line of Credit can provide the funds you need to start or finish your project today. Apply online or call us at 800-444-4816 to learn more about how your home's equity could help pay for a variety of projects.