Article
When is the best time to buy a house?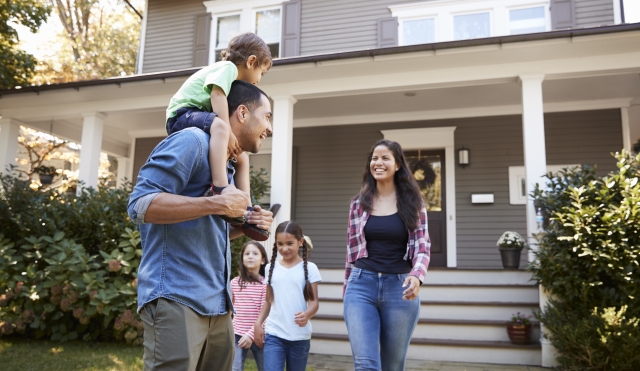 Figuring out the best time to buy a home can be tricky. Should you wait until summer when property listings are plentiful? The warmer temperatures bring a more extensive housing inventory, but also greater competition.
Maybe winter is a better time to buy a home. Colder months often mean less competition and increased negotiating power for buyers. Sellers who didn't have success in the prior season may now be willing to entertain lower offers.
But, the best time to buy a home has little to do with the weather. When you have your financial house in order, any time of year can be the best time to buy a home. Take these steps to make sure you're in the best position to secure your dream home on your timeline.
Establish a Home Buying Budget
Before you tour your first open house, calculate the amount you can comfortably afford to spend on a home. A standard recommendation is for your mortgage payment to be no more than 35% of your monthly household income. For some, this might still be too high. If your plans include other financial goals, such as increasing contributions to a retirement plan, saving for future college tuition, or extensive travel, then a high mortgage payment may eat away at those earmarked funds.
Review your income and expected home ownership expenses to ensure you leave enough funds to meet your other financial goals.
Check Your Credit History Report
A poor credit rating will affect your purchasing power regardless of the time of year you begin your home search. Late payments and high credit account balances lower your credit score and limit your mortgage loan options. But, low balances and an established history of on-time payments can help you qualify for low or no down payment loan programs, low-interest rate mortgage loans, and favorable repayment terms. Pay bills on time and reduce account balances to see an increase in your credit score.
Incorrect credit report data can also lower your credit rating. Request a copy of your credit history reports from AnnualCreditReport.com. Confirm that the information in each report is accurate. If errors exist, follow the credit reporting bureau's dispute policy to have them removed.
Reduce or Eliminate Your Debt Load
Spending a few extra months to pay down debt can help you secure the keys to your dream home at any time of the year. Outstanding credit card and student loan balances are examples of the debt loads that lenders consider when determining mortgage loan eligibility. Carrying high amounts of debt compared to your gross income equals a less than desirable debt-to-income (DTI) ratio. Cutting expenses, working extra shifts at your current place of employment, or securing a part-time job can help generate extra money to pay down debts.
Build a Fund for Down Payment and Closing Costs
While you may not need 20% down on your new home, you will still need to pay for closing costs, which are typically 2% - 7% of the sales price. The purchase price for your home and the loan program you qualify for will determine how much you must bring to the closing table.
Let Credit Union of Colorado provide a Loan Estimate to remove some of the mystery regarding mortgage loan programs and closing costs. Apply for a mortgage loan pre-approval to learn which programs you qualify for based on your credit. Then, shop with confidence knowing the maximum mortgage amount your income could support.
When your purchase offer is accepted, provide any remaining loan documentation to your lender to finalize the loan. Track your loan status through closing using Credit Union of Colorado's Application Tracker.
Down payment amounts and closing cost figures will be finalized shortly before closing. Apply extra funds not used for the down payment or closing costs toward moving expenses or deposit into your homeowner's emergency savings fund.
Build a Homeowner's Emergency Savings Fund
After you've moved into your home, you're responsible for all maintenance and repairs. Unless you have cash set aside to cover these expenses, you might turn to high-interest rate credit cards to pay for a leaky roof, appliance repairs, or other emergency expenses. Prepare for the inevitable by having a homeowner's emergency savings fund ready for such occasions.
Make any time the best time to buy a house. Ensure your finances are in order first, and you'll be prepared to make an offer in any season. Let a mortgage loan expert at Credit Union of Colorado guide you through the home mortgage process any month of the year. Call 1-800-444-4816 or schedule an appointment to speak with a mortgage loan expert at one of our branch locations today!