Visa Rewards & Business Rewards Cards
Welcome to PeakPoints. An elevated rewards experience.
Members must login to access and redeem their points.
Image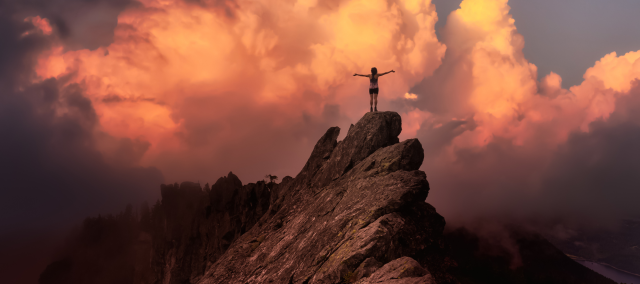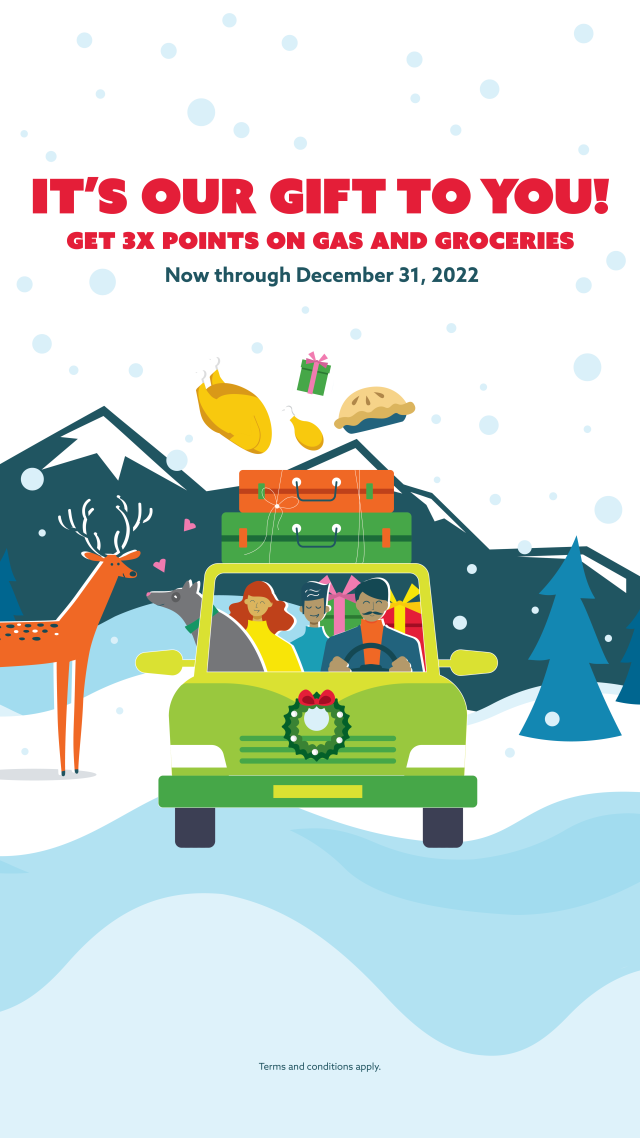 3X On Holiday Gatherings!
The holidays are here, which means more family, more food, and more fun things to do. When you use your Visa Rewards credit card for gas and groceries purchases this holiday season, you can earn 3x points.
Whether you're loading up the car for a cross-country trip to grandma's house or loading up on groceries to go head-to-head against aunt Laura's famous cheesy casserole at Thanksgiving dinner, you'll have the opportunity to earn more points and redeem them on some much needed "you time" after the holidays. Filling up at the pump and packing your pantry now puts 3x points in your wallet!
It's our gift to you. Get 3x points on gas and groceries through December 31, 2022.*
That's more points to get the holiday gifts at the top of your wish list.
3% cashback
Live experiences
Travel rewards
Charitable donations
There's no cap on earning from qualified purchases. Enjoy it anyway and every way you want this season.
 *You'll earn 3% for each $1 of eligible purchases made at US gas stations and US grocery stores when using your CUofCO Visa Rewards account. 3% back equates to $0.03 in % back rewards, which is equal to 3 points for each $1 spent. Merchants who accept Visa credit cards are assigned a merchant code, which is determined by the merchant or its processor in accordance with Visa procedures based on the kinds of products and services they primarily sell. Visa groups similar merchant codes into categories for purposes of making rewards offers to you. 
Every day is more rewarding with PeakPoints.
Use your Visa Rewards or Visa Business Rewards credit card for all purchases big and small. You'll be surprised how fast and easily you earn points.
Your everyday purchases have never been more rewarding! Peak Points will earn you points toward cash back each time you use Platinum Preferred Rewards and/or Business Rewards credit card.
Pay with the points you've already earned! Purchase, get notified, and redeem through a 1-click redemption. A statement credit will then be applied back to your card.
Browse top travel destinations, access exclusive deals and redeem points for airline tickets, hotel accommodations, car rentals, cruises, vacation packages, and destination activities and
excursions all in one place.
Treat yourself to a day of shopping followed by a night on the town. Enjoy a variety of gift card reward options from all your favorite retailers including Starbucks®, Macy's®, Amazon® and much more.
Redeem your points for tickets to top events across the nation. From concerts to top sporting events to plays, find tickets that you will enjoy!
 
With our extensive merchandise selection, you'll be sure to find the perfect reward item you've been to cash in on! Browse merchandise from top brands, including Apple®, Sony®, KitchenAid®, and much more.
From an open water dive course to a golf lesson with a PGA pro, you can redeem points for a variety of daytime excursions and nightlife entertainment or theme parks for everyone.
Pay it forward with your points! You can donate the points you've earned to a charitable donation and do your part to give back.
Frequently asked questions about your points.
Why is this change happening?
As part of our ongoing efforts to ensure we provide our members with the best services available and provide more reward options, we are implementing an elevated new PeakPoints Loyalty Program to replace ScoreCard Rewards.

When will this change take place?
• Accumulated points from ScoreCard will be transferred to PeakPoints on or before 10/13.
• Members will gain access to PeakPoints on or before 10/13.
• Members will be able to see all new point accruals when they access the site.
Will my card number change?
No.
Do I have to make the change to a new rewards company?
No. The entire Credit Union of Colorado organization and membership is transitioning to PeakPoints.
Is this going to cost me anything?
There is no cost to participate in PeakPoints.
What will happen to my current reward points? Household Points?
Unredeemed rewards and household points will be moved to PeakPoints, and qualifying transactions will continue accumulating. 
Will I lose all of my current points?
No, they will be converted to PeakPoints at the same value.
Why can't I see my points in the new platform?
Existing points converted from ScoreCard will be visible in PeakPoints on or before 10/13/22.
How will I log in to see my new rewards?
Access PeakPoints only through CUofCO's online banking or mobile app.
Can I access the new rewards from my mobile device?
Yes.
Can I access the new rewards site without signing into my CUofCO online banking or mobile account?
No. 
Not a Visa Rewards cardholder?
There's no better time to collect and redeem points than right now. There is still zero annual fee and a hundred new ways to use and earn your rewards on PeakPoints!